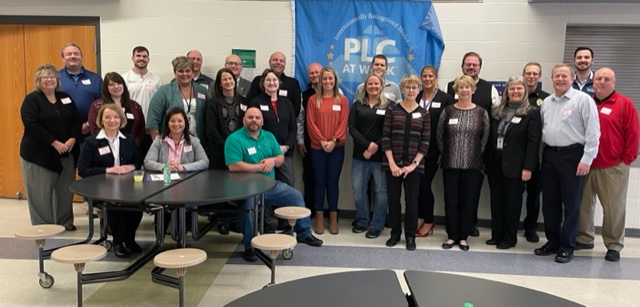 Business leaders and community members volunteered their time and came to Lakewood Elementary School Wednesday, March 30th to interview all of the fifth grade students. The students were able to achieve the experience of a job interview to participate in the JA BizTown curricular learning experience. JA BizTown provides the students the opportunity to practice work readiness in a job setting.  All fifth graders will go to JA Biztown to have a simulated work day in mid April. Those helping with interviews included:
Back row:
Brian Winslow, Business Owner: Four Seasons Auto Wash
Mason Zimmerman, Manager/Owner CrossFit 50211
Craig Choate, Manager-Fareway
George Meinecke, Vice President-City State Bank
Tim Stephany, Owner-Stephany Insurance
Gary Burton, Managing Partner-Gregg Young Chevrolet
Eric Lloyd, Owner-Iowa Moving 1
Tiffany Patterson, NCSD Human Resource Generalist
Denny Wulf, Former NCSD Superintendent
Greg Staples, Police Chief of Norwalk
Ben Schultz, HR Representative-Michael Foods
Front row:
Jan Jensen, Retired NCSD Counselor
Shannon Giles, Community Director-Edencrest
Shelly Vroegh, NCSD TLC & Mentoring Programs Coordinator
Maribeth Wright, NCSD Board President
Katherine Schmidt, Former NCSD Board Member
Natalie Burton, Finance Director-Gregg Young Chevrolet
Jill Larsen, Director-Crayons 2 Pencils Early Learning Center
Mary Jo Fox, Retired NCSD Teacher
Laura Sivadge, Retired Norwalk Schools Administrator
Kate Baldwin, NCSD Business Manager
Tom Phillips, Mayor of Norwalk
Kory Dammeier, On-The-Job Trainer-Michael Foods
Seated:
Nancy Palks, Retired JA Biztown Director
Jennifer Larson, Assistant Public Defender
Richie Velez, Restaurant Business Consultant-Taco John's
Not pictured:
Adam Zimbeck, Pharmacist/Manager-Medicap Pharmacy.
---