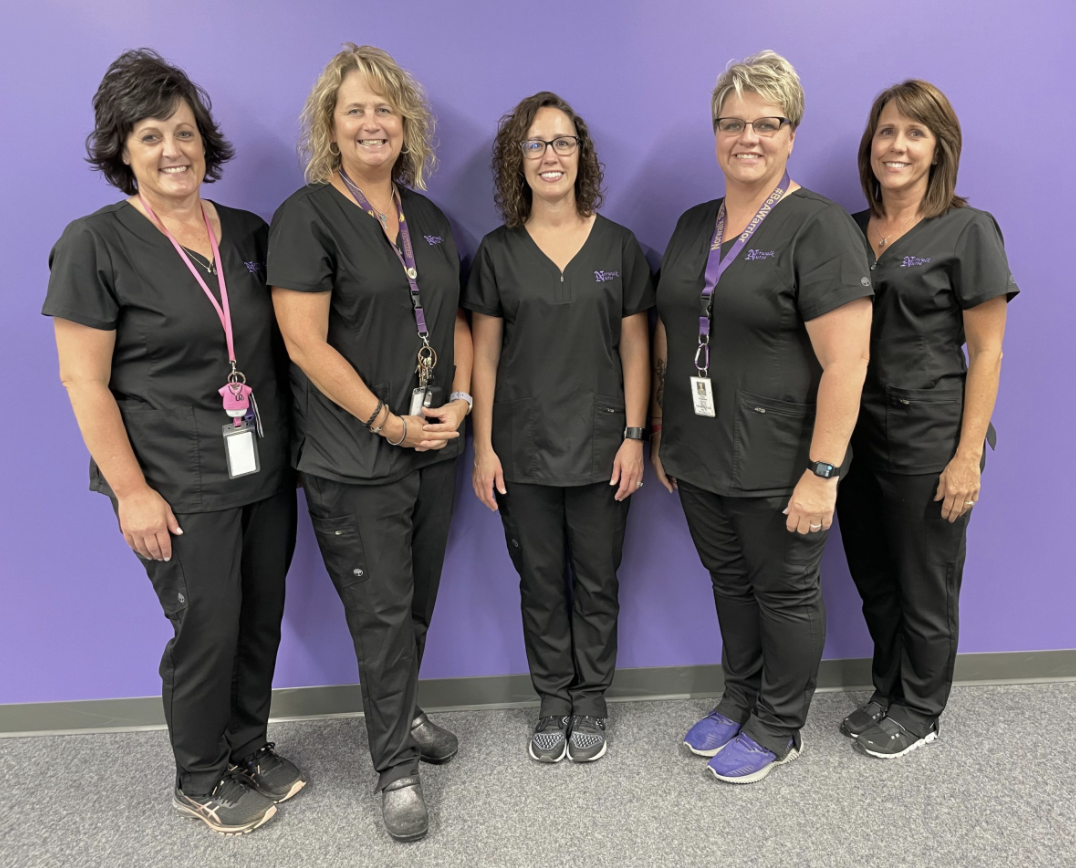 Date: 
Wednesday, May 11, 2022
For many school nurses, their profession is a calling.
Just ask 2022 Iowa School Nurse of the Year Diana Duffy, a 38-year career nurse. Duffy has spent the last 15 years of her career as the Norwalk High School nurse in the Norwalk Community School District.
"I decided in high school that I either wanted to be a nurse, a physical therapist, or an English teacher," Duffy said. "So, I took a nurse's aide course, worked in a nursing home, and decided to go to nursing school. I always felt so comfortable with that decision and never looked back."
Following nursing school, Duffy initially worked in pediatric intensive care and in adult and pediatric emergency room care.
"I think working in the hospital emergency room really prepared me as a school nurse. It gave me a really good foundation," she said. "I can't imagine doing this right out of school without any background. You are pretty autonomous as a school nurse. You have a lot of independence and have to be confident in your triage and care of students."
Since her school nursing career began, she has served preschoolers through high schoolers. Duffy notes there have been dramatic changes in the climate and culture of student life during her career span.
"I have thought a lot about the kids' day-to-day experience being so obviously different then when I was in school," Duffy said. "If we did questionable things, they weren't preserved on video, it wasn't always captured on a cell phone or in photos. I think the stress of students feeling like they are always being monitored makes them feel pretty vulnerable."
When caring for that youthful, oftentimes vulnerable, population, Duffy says establishing trusting, caring relationships with students and families matters immensely.
"I really enjoy getting to know the students," Duffy said. "When I worked in the ER, I didn't have that luxury of following up with people, making sure they understood things. In this role, I really have enjoyed being able to learn about the students and families and having that follow-up so  they really understand about their asthma or their diabetes."
"I like watching students grow up, become more mature and independent. I like helping students educate themselves or become more of an advocate for themselves. I enjoy seeing that change in high school students from their freshman to senior year. It's always fun when a student returns and tells me about what they are doing, about their successes, about their families. It's fun to see and hear how students have shaped their lives."
And speaking of successes, what are some that Duffy considers the most rewarding in her career?
"I think it's a lot of the little things," she said. "I hadn't thought of this perspective until many years ago when I got that first letter from a parent whose student had a severe allergy, telling me how much they appreciated the communication and how I worked closely with them and their student. It was kind of them to say and I appreciated it. It gave me a different perspective."
For Duffy, it's a lot of those "little things, nothing big that stands out…" she counts as rewards and successes. She thinks about how important it is for parents not to worry all day and, instead, be able to send their child off to school knowing the child will receive good care. Parents who have children with diabetes, for example, know Duffy is there, know they can call her anytime, know she will check on their child, and know she is comfortable caring for those types of illnesses or chronic diseases.
The pandemic comes to mind when highlighting watershed or especially memorable moments in her career. Still, it's not so much about singular things, but viewing things more as a whole.
"Our nursing team and school team worked so hard," Duffy said. "Everyone – from our school board, to our superintendent, to our custodians doing extra cleaning, to our food service staff who made sure kids had food when we were not in school – worked so hard to keep kids in school. It was such great teamwork. We were able to remain open from the fall of 2020 forward."
Duffy speaks with great affection and praise for her fellow school nurse colleagues.
"We have such a great team of nurses. We work so well together," she said. "They all come from hospital backgrounds and bring such great experience to the team. I can't imagine doing our work in a school setting without being able to call them, email or discuss something. We make decisions together and problem solve together. We support one another with learning and facing challenges unique to the school setting. We have such a great team!"
When nurses come into the school setting from a variety of backgrounds and experiences, they are often surprised at how different and challenging the duties can be, and the extent of medically fragile kids in their care. With modern medical and technological advancements, students with health challenges have more opportunities in their life for participation and growth, which may require the involvement, supervision and care of a school nurse.
Duffy offers this encouragement to those new to the field or those considering coming aboard:
"Just remember you are part of a team," she said. "You can always reach out to other nurses in other districts. We have our Area Education Agencies and I work really closely with our counselors, principals, vice principals and teachers."
"School nursing is a different world. At first you feel like you are on an island, but once you realize you are all working together and communicating about something specific and everyone has a piece to add to the puzzle, it's an advantage to the child."
---