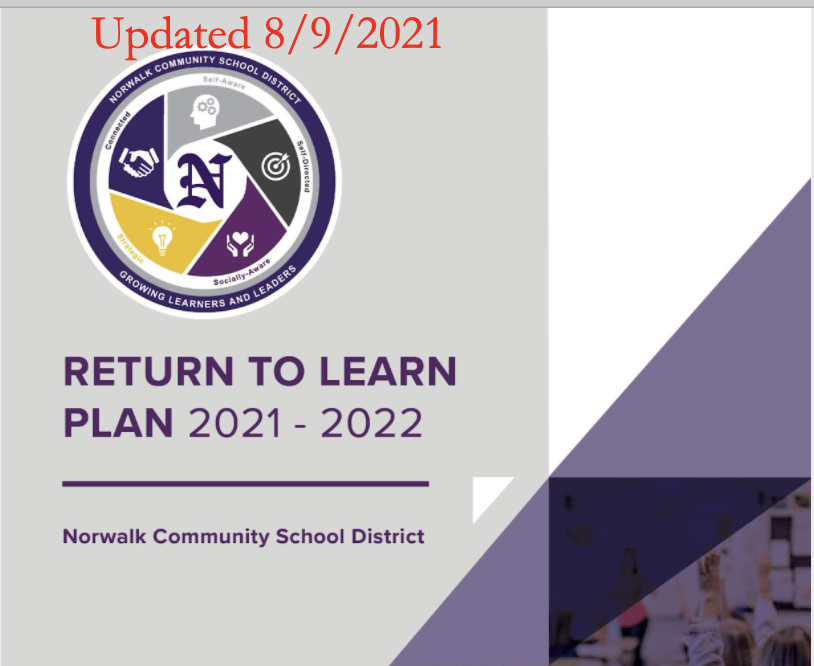 2021 – 2022 NCSD Return to Learn Plan 
The 2021-2022 school year will begin on Monday, August 23 in the Norwalk Community School District.  The NCSD Board of Directors approved the NCSD Return to Learn Plan at the Board's regular meeting on Monday, August 9, 2021 based on current COVID-19 pandemic conditions and expectations from the state. I encourage everyone to monitor district communications closely as recommendations within the NCSD Return to learn plan are fluid and subject to change.
The district is encouraging anyone present on school grounds to consider wearing a mask (face covering). NCSD would also like individuals to consider getting vaccinated against COVID-19. Throughout the pandemic, per the CDC, mask wearing, respiratory etiquette, staying home when sick, vaccinations, physical distancing and handwashing  (e.g., soap, hand sanitizer with at least 60% alcohol, and a way to dry hands, such as paper towels or a hand dryer) have proven to be the most effective COVID-19 mitigation strategies. 
None of us want to start another school year under pandemic conditions, but that is the situation we must now face together. My best hope is that we all can buy into the district's theme this year – UNITY – WE ARE STRONGER TOGETHER.
Thank you all for your continued support, grace, and understanding.  Please contact me at dmagee@norwalk.k12.ia.us if you have any questions about the NCSD Return to Learn Plan.
Yours in service,
D.T. Magee
---